This week I found myself down in Dalton, Georgia spending time with a remarkable group of people and a brilliant family. They call their business The New Flat Rate, or by it's abbreviated name TNFR. I was allowed to spend time with each person in the company learn about who they are, and what they do.
I know what  you are thinking, what do they do at The New Flat Rate?  Well TNFR founder Rodney Koop explained it to me as a sales process development company.  That is a fancy way of saying we teach in-home service technicians how to bring in the money a company needs to survive.  Their unique utilization of verbal packaging takes sales to a new level and allows service technicians in the plumbing, HVAC, and electrical trades to be what they were always meant to be.   You guessed it, problem solvers and service experts.  It also puts the power of value building in the hands of a service technician and it is laid out in such an easy format that 95% of people can follow it without any problems, in addition it can be implemented into any company in as little as few days.
So here are the details of my visit.
Day 1: 7:00 AM  I was the first person in the door I sat in the back near the door which is what I am accustomed to doing. I pulled out my pens and notebooks and refilled my coffee cup. Within a few minutes the class filled up, and Matt Koop entered the room. He spent a few minutes setting up his online audience as well as his microphones and Large 72″ monitor that he had hanging on the wall in the back of the room. He then talked to me for a few minutes and asked if I wouldn't mind teaching a bit today. I agreed and 8:00 AM he was off to the races, we took a break at approximately 10:00 AM and after the break I went in front of the class and taught  the class the basics of how to make a sale, and what are the foundations of any successful sales system. I finished up around 11:45, and lunch arrived. Meatloaf and mashed potatoes from a local diner, I must admit it was delicious.
Once lunch was over at approximately 1:00 PM I sat down with Danielle Putnam the President of The New Flat rate. As I listened to her talk I was reminded of an important lesson that I learned many years ago.
Humility and Leadership, go hand and hand 
Most of you may remember Danielle as the leader of 
Women in HVAC .
 She is considered a rock star among all the women in the Home Services Industries. She is a mother of three, a business leader, and she operates her own charity, and despite all of this she took the time to sit down with me. Most people can't do one of those things much less all four. I think what impressed me the most was her humility, it was almost like she didn't realize that she was larger than life. Her charismatic down to earth approach to business dominated our conversation. Eventally our talk went into her personal life, and she explained to me her life story from growing up with 8 brothers and sisters and how she rose to prominence in The New Flat Rate. She talked to me about the future of her company and what her verticals look like. After what seemed like a short 4 1/2 hours she announced that she had to pick up her children, grabbed her purse and ran out the door.
It was 5:30 and so I decided to head back to my hotel when I got a call from Rodney Koop who invited me out for salads, and a trip on his boat . We headed out to Carter's Lake where the water is 80 degrees and looked like a sheet of glass. It was a great time and after it we were done he dropped me off at the hotel.  What I found unique about Rodney was how he left little nuggets of wisdom every time he talked, but he was never pushy about the things he knew or thought. He has an incredible subtlety about him, and as he dropped me off he asked me if I had read Acres of Diamonds. If you haven't read it, you should, it is a short read only about 30 pages. I don't want to give too much away, but needless to say I went back to the hotel and read it right away.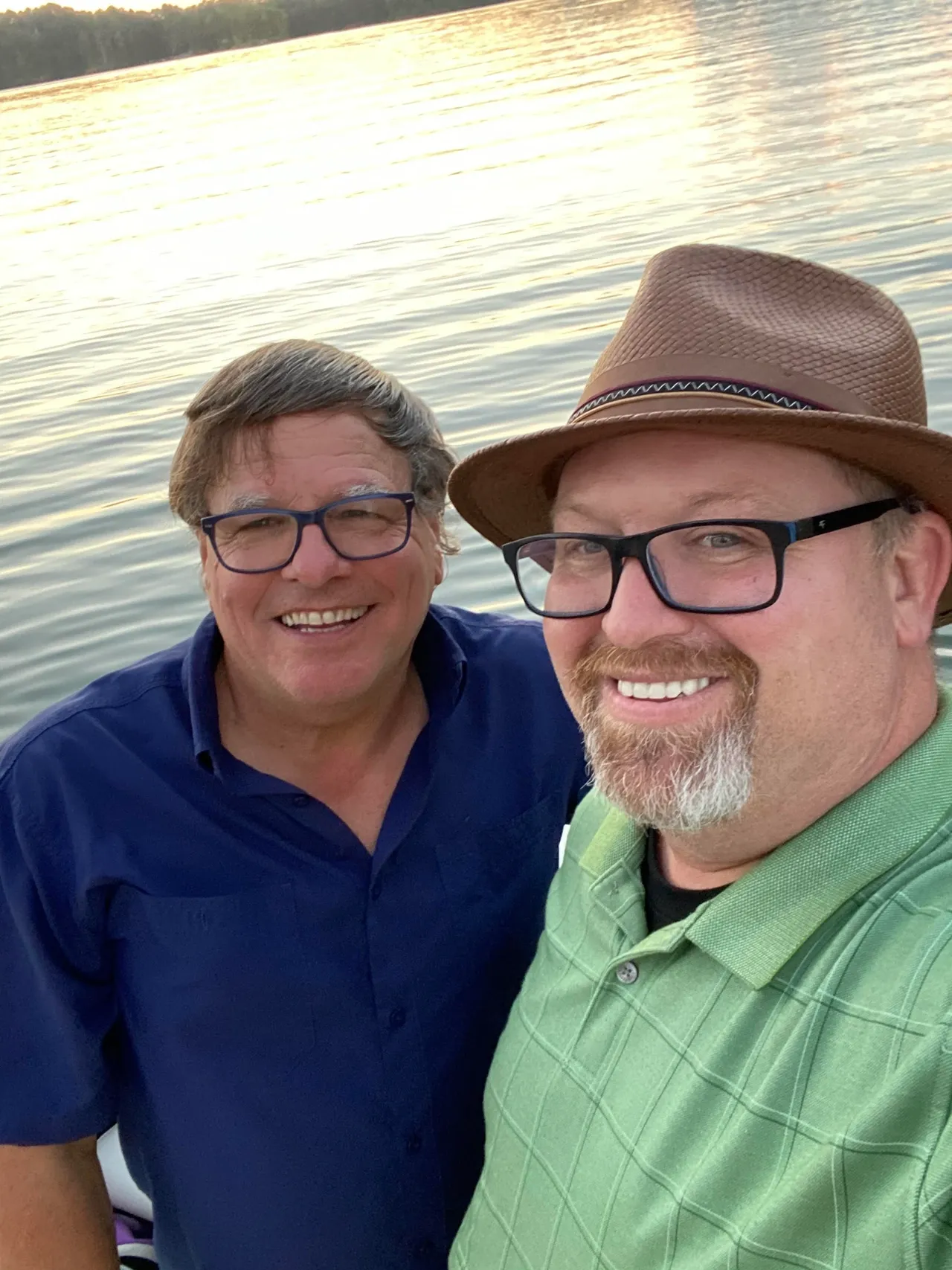 Day 2: 8:00 AM I was getting to know the rest of the staff at The New Flat Rate, and spent the first half of the day meeting the sales team, the administrative assistants and everyone else that makes that company go. They have a group of Superstars there and I was thoroughly impressed with how strong of a work ethic they all seemed to have. The best part of the group was their collective love of helping people, that kind of love shows in their work and it shows in the smiles that they give away freely to anyone around. The love of helping others extended so deeply that upon finding a sick abandoned dog outside, and one their 5 star office ninjas went out and fed the dog and then took it home to care for it herself.  You can tell a lot about a person by how they care for those that can't care for themselves.
This is the essence of good company culture, good people and good foundational ideas, TNFR is a place where people feel heard and everyone communicates ideas openly.  I didn't sense any bitterness or underlying anger. I only felt a sense of a commitment to be part of something bigger than themselves great job guys.
Day 3: 8:00 I arrived and Danielle invited me to take part in their company meeting. I must admit I felt very awkward, but I stuck in there and I even contributed a few ideas of my own to the group.
9:00 The rest of the day was spent with the Vice President of TNFR, Matt Koop. We talked for hours about sales and process and teaching people. We talked about the big overall vision that we both share for the future.  Afterwards, Matt invited me to his house where I met his four beautiful children, and cooked on his AWESOME porcelain grill. I learned several lessons from Matt that day.
Hard Work and Intelligence Pays off
Matt told me his life story and how he has focused so much of his efforts on learning the business of business. He told me the story of how he started out as a technician in a truck. through years of determination and hard work he has managed to build a real estate business as well as doing public speaking engagements throughout the country teaching the art of sales process TNFR style.
Rewrite the Rules
We all think that we have to follow an ordained path as an entrepreneur, but there are always great things on the horizon. The New Flat Rate was originally a Heating and Air Conditioning company and they made a pivot move and were able to get an level of success that even they didn't even see coming. Eventually they sold the HVAC company and now just have their sales process company.
Think Outside the Box
Matt shared with me several ideas of where the company will go in the future and how they plan to expand. Most people feel that you can only utilize your in-house resources to grow your company. Matt and Danielle both realize that they need outside forces to help them get to the level that they want to be. That thought process and mindset will take their family and their business to greater heights in the future.
So if you are looking for a company that has created a sales process that works for the 95% of service technicians, check out The New Flat Rate. Why? Because that's how a Service Ninja does it.